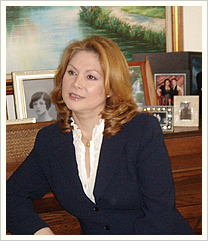 Eleonore Dutkus, with more than 30 years in the legal field, became a trained Paralegal in 1982. By 1984 she opened an independent paralegal office in Santa Ana, CA. Since then she has owned and operated Community Legal Aid providing quality freelance paralegal services to attorneys as well as LDA services to the general public. With the enactment of Bus.& Prof. Code §6450 in 2000, Eleonore became a registered Legal Document Assistant in Orange County.
Eleonore is also a registered Immigration Consultant, a registered Tax Preparer, a commissioned Notary Public and a Licensed Real Estate Broker/Realtor and Mortgage Broker.
On May 30, 2007 Eleonore participated in the AOC (Administrative of the Courts) Technical Assistance Project at the Orange County Superior Court Family Law Division headed by Supervising Judge Hon. Francisco Firmat for which she was acknowledged.
We continue to be honored for 3 consecutive years for the excellent work we provide our community with the Best Business of Santa Ana Award in the Category of Divorce and Family Law.